Reg Name:  Puur De Legeane
Sire:  Legendarivs Canis Hammer Fist
Dam:  Jesuis de Legeane
Whelped:  September 14, 2016
Call Name:  Puur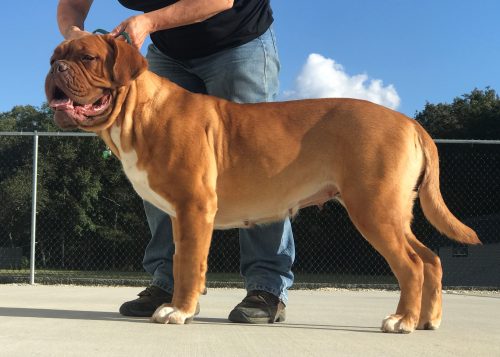 Dear sweet Puur!!!
Her name is pronounced "Pure".  It is the Dutch spelling of the word Pure.
She came to us when her owner Dianne Morrison suddenly passed away.  She left too many dogs behind for her loving husband, Jim, to handle on his own.  It was so sad to lose someone as wonderful and knowledgeable about the breed as Dianne.   Everytime we look at Puur we think of Dianne!
Puur is straight up LOVE!  She wants to be in your lap and nuzzled in as close as she can get to you!
She is a brown mask Bordeaux unlike the usual red mask Bordeaux.
Pedigree of "Puur de Legeane"

Parents
GrandParents
GreatGrandParents
Legendarivs Canis Hammer Fist
Tcheck Mr Z Orisku
Cetje Van't Bulscampvelt
Heimer's Falanghina de Boncha
Gageure du Joli Bief
Yakeem Van de Paterhoaek
Etoile du Jolie Bief
Jesuis de Legeane
Bakervill's Style Funky Boy
Midnight Express to Rozeldogue
Honey Bee
Mirthe de Legeane
Aemme de Legeane
Minerva de Legeane