Sire:  Maximus de Legeane (Maximus)
Dam:   LNL's Takes Two To Tango (Tango)
Born on April 13, 2018
One precious little baby girl.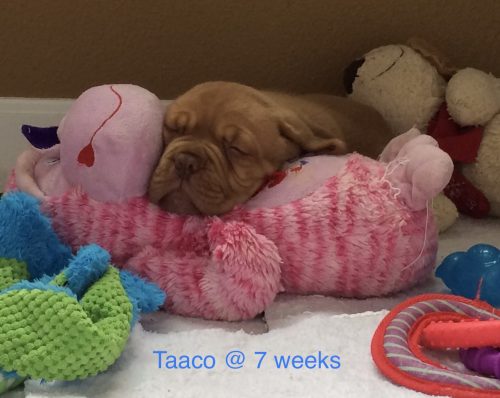 This little girl was born shortly before we moved into our new house.  While bringing her to the new house, my houseguest (a breeder from Wales who accompanied 2 of her dogues we just bought) and I stopped at a store.  We wrapped this tiny puppy up in a baby blanket to hide her while we took her into the shop.  In her lovely Welsh accent, she said, "Look at you!  All wrapped up like a Taco."  She became Taaco.
Later, her new family's son wanted a dog named Sophie.  She became Sophie.  But she was Sophie with a big brother!